Yesterday - we're talking 24 HOURS AGO - I bought a quart of strawberries and a bag of grapes at Henry's. Both are organically grown because I'm like that. Both looked equally fresh because they probably were. I used the strawberries to garnish a raw foods dessert I made to take to a massage party last night. (
Chocomole
, totally awesome cuz it's from a totally awesome person, and it never fails to wow every guest at the gathering. Take copies of the recipe with you. Trust me on this.) I left both the extra strawberries and the bag of grapes on my counter overnight because I'm not partial to cold fruit and I don't have problems with pests that raid my kitchen (aside from my roommate).
This morning I go to cut up the remainder of the strawberries and they are COMPLETELY grey and fuzzy. I don't mean just a little part that you can cut out, I had to THROW THEM OUT. And I despise wasting food. WTF? The grapes sitting on the counter right next to them were fine. Not even a trace of science experiment. I wonder if I had stuck a camera in front of the berries overnight if I could've watched them grow a beard like a time-lapse movie without the acceleration.
This is not the first time I've seen this here in San Diego. The trouble is, it doesn't happen every time and you never know when it will strike. Some fruit I've left out on my counter for days with no trouble. Others commit suicide overnight. I can't figure it out. I mean sure, you never know when the things you buy actually arrived at the store so perhaps they were already old, but they felt firm and didn't seem to show any signs of severe decay. It is the weirdest thing.
At least I still have grapes. (Thank you Fruity Gods.) I will pair them with peaches in the blender and add some Agave nectar and see how that dance goes. Grapes and strawberries straight up are a much tastier smoothie though. I swear I'm going to do this raw food thing eventually. I got a recipe for a fruit dip type thing from a great guy I met at the last massage party. It goes like this (in his unedited words) for anyone that wants to try it:
The recipe is simple, all is real and raw, not from a can, I get the young coconuts a the asian stores call 99 Ranch Market, a case of 9 young coconuts is about $7.00, so here we go, to make a small amount you can do it with milk and meat from one coconut, hand full of raw cashews ( keep adding till gets thick ), small dash of sea salt, blend, try it, then add 1/4tsp or a bit more of raw agave nectar ( keep adding till gets sweet enough for you, and don't forget to add some love too, and thats it.
You drizzle that over fruit - he had cut up apples at the party - and it was delish. Oh, and when he says blend it, he means with one of the Super Blenders like a VitaMix or a BlendTec. I haven't purchased one yet, but I see it in my very near future. (If you're looking to get one, check eBay. There's been some good deals on nearly-new BlendTecs there recently.)
I guess eating raw requires more than sweet desserts tho. That's the part I'm not as excited to try - veges and such. Sounds like a WHOLE lotta salads and green shakes. Salad is all fine and good, but I'm not an iguana (despite Spunky's opinion).
Well anyway, that's my story for today.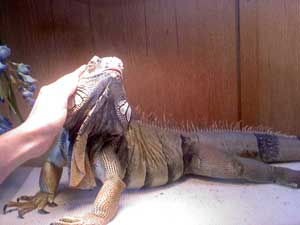 Spunky, my fruity iguana.